When the sun starts to go down a little earlier, and the sky starts to look a little bit grayer, bold pops of color are a great boost of vitality to both your wardrobe and your day. And this season, we've got our eye on one stunner of a hue: Cobalt - the official color of spring 2014. Electric, androgynous and bold – cobalt is a bolder shade of navy—still chic yet a bit more playful. Royal blue made an appearance on the Spring Summer runways on pants, coats, bags and shoes featured by Jenny Packham, Bottega Veneta and Saint Laurent to name a few. The color has translated with ease onto the streets making it a trend to watch out for the next season.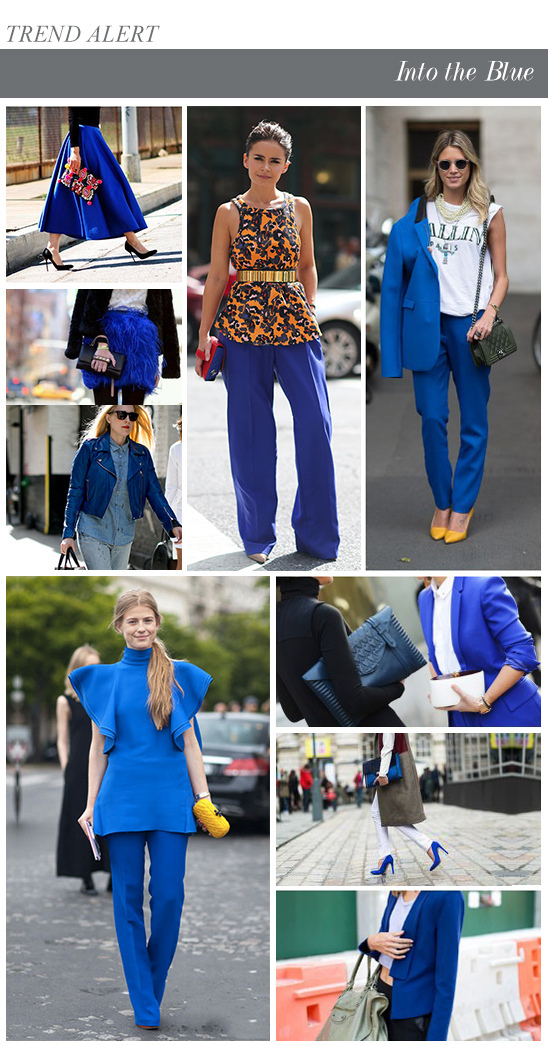 This is a trend, which every fashionista can indulge in effortlessly by digging into your closet for long-lost pieces of blue. If you are looking to make a purchase, then invest in a beautiful, tailored coat while the safe ones can go with formal blue trousers which will never go out of style. For those who wish to make a statement, do pick up sky-high heels in the stunning hue to offset or color block with your outfits and for those who are not a big fan of the color can pick up a nail color or a scarf to give your outfit a striking finishing touch with the color of the season. Here are a few of our favourite picks in the online and retail markets for you:
And Suddenly feeling blue isn't such a bad thing! Add a bit of royal blue to your wardrobe to stay on trend for the coming season. Some of you daring fashionistas might also want to experiment with a strong blue mascara and eyeliner which is also very much in vogue, as are blue highlights for the hair. Make the trend your own and have lots of fun with it.